Au puits de l'épervier (At the Hawk's Well)
Au puits de l'épervier est une adaptation opératique en un acte d'une pièce dramatique de Yeats, elle-même écrite sur le modèle d'un Noh japonais. La composition rituelle de l'opéra a pour but d'évoquer l'influence de ce modèle. La musique est parfois sombre et atmosphérique, puisant son inspiration dans le langage archaïque, les images poétiques angoissantes ainsi que dans le symbolisme archétypal et métaphysique du texte. Le langage musical est à la fois tonal et atonal, favorisant ainsi l'expression des idées littéraires. L'opéra est écrit pour 5 chanteurs, les rôles principaux allant au ténor, à la basse ainsi qu'à un danseur. L'accompagnement se compose d'un orchestre de chambre avec un piano, un violon solo électrique. On peut aussi y ajouter les instruments du gamelan.
Les six rôles sur scène sont les suivants :
Le vieil homme (Basse) : rôle principal
Le jeune homme (Ténor)
Le premier musicien (Mezzo-soprano)
Le deuxième musicien (Mezzo-soprano)
Le troisième musicien (Basse)
Le gardien du puits (Danseuse)
Les rôles principaux vont au vieil homme et au jeune homme, les trois musiciens sont des rôles secondaires.
Pour la création, à Nelson, les percussions suivantes ont été utilisées :
Ces trois derniers instruments sont optionnels et le Gong peut être remplacé par un grand tamtam. Ces percussions peuvent être jouées sur scène par les trois musiciens ou être incluses dans l'orchestre selon l'interprétation du directeur musical et du metteur en scène. Pour la première à Nelson, les musiciens ont seulement chanté, mais la partition leur permet de jouer également.
Costumes et décor :
Pour la création à Nelson, seuls le vieil homme, le gardien et le jeune homme portaient des costumes élaborés. Le vieil homme était en haillons tandis que le jeune homme était vêtu d'un costume royal. Le décor sur scène était dénudé et minimal, mais l'éclairage était particulièrement important. Des tas de feuilles séchées posées sur des escaliers apportaient des contours intéressants.
Full Score (extrait) - Part 3, pages 1-6 PDF
Full Score (extrait) - 4 page PDF of Final Song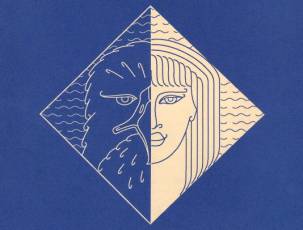 Nigel Keay's At the Hawk's Well is also performable as a cantata in a concert version.
Full review published in the Nelson Evening Mail on March 30, 1992:
At the Hawk's Well opera impressive
At the Hawk's Well, opera by Nigel Keay. World premiere performance, Saturday March 28, Nelson School of Music. Reviewed by Martin Lodge.
It was a bold stroke for the Nelson School of Music's director, Bob Bickerton, to commission a new opera by way of a contribution to the city's l5Oth anniversary celebrations. On Saturday night that optimism was proved justified with the premiere of Nigel Keay's At the Hawk's Well.
Playing to a sold-out house, the large cast of musicians delivered a strongly-committed performance under the powerful and inspiring direction of conductor Miranda Adams.
The well of the opera's title is one whose waters impart immortality to those who drink them. But the well has been dry for 50 years, and beside it a man has grown old waiting for the water to return.
Now a young, optimistic man approaches the well. He tells the old man how, on his way, he fought off a hawk.
Unknown to him, the bird is the spirit of the locality, and it comes to possess the Guardian of the Well, transforming her into a beautiful young woman.
Her dancing leads the young man away, while the old man falls asleep. Then the waters return to the well. When the old man awakes and the young man returns the stones are wet, but the waters have receded again out of reach.
Yeats' pessimistic play dates from 1917. Nigel Keay's verbatim treatment of Yeats' text is intricate and musically uncompromising.
All the musicians rose to the challenge, with the Nelson Symphony Orchestra playing confidently. There were some splendidly atmospheric moments, notably during the dance sequence when the orchestral texture was augmented by an amplified electric violin.
The choreography of the dance itself could have been more overtly seductive, but the performance from Kate Burton as the Guardian of the Well was beautiful.
Of the soloists, only David Clark as the young man and Paul Densem as the old man were from outside Nelson.
Both are young singers, still completing studies in Wellington.
They approached their roles with commendable conviction, for the most part singing strongly and convincingly.
The age difference between these two characters though, really needed to be more accentuated both with makeup and acting. On the evidence of what we heard in At the Hawk's Well, we can expect to hear more of these two singers in future.
The other solo roles are allotted to three "musicians" (so-called by Yeats). Keay was fortunate to have the services of current composer-in-residence at the School of Music, Helen Bowater, as the soprano musician. Her rich, mature voice complemented the fine, youthful mezzo of Joanne Hodgson nicely. Third musician Ben Ayre delivered his part in an impassioned and forthright way.
The Polyhymnos choir provided moments of marvellously veiled sonority. The composer used the choir as an additional tonal colour on his orchestral palette. Discreet use of Indonesian gamelan instruments as an expanded percussion section worked well too, blending surprisingly easily into the opera's overall sound world.
Darien Takle's direction of stage action was masterly in its simplicity and control of stylized movement. She managed to use the unwieldy concert platform of the auditorium as an effective operatic stage without resorting to elaborate curtains, sets or props. Costumes, designed by students of the Nelson Polytechnic craft design department were suitably dramatic and symbolically coherent. Lighting by Steve Thomas was exemplary in its design and accurate cueing.
At the Hawk's Well is a most impressive achievement, both in concept and execution. Composer, performers, director, crew and indeed the whole city of Nelson can feel justly proud of having had the courage and energy to bring a project of this imagination through to successful production. It is an achievement larger cities may regard with envy.